Software for graphic arts
RIP CiberPrint 7.1
CiberPrint RIP software news:
RGB printer profiles.
SoftProof in your design software.
Mach colors on all your printers !!.
Get more than 90% Pantone colors.
30 % ink saving.
Highest color accuracy.
Perfect Gray scales.
User definable panelling.
Step and repeat.
Automated nesting.
User definable color libraries.
Image cropping.
Color chart generator.
Queue manager.
….. and many more ……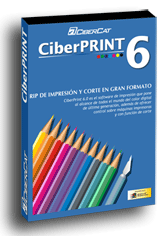 ---
CiberCut 6.0
Signmaking software.
CiberCut 6.0 adds very interesting news:
Powerful automatic vectorizator wizard.
Advanced tools for design cutting.
Effect entailment, allows making changes in the desing without creating all the effects again.
Much more powerful in all tools.
More cutting options.
The most affordable powerful Sign-Making sofware around the world !.
With CIBERCAT's new CiberCut 6.0 you will be able to work faster, as it has an even more intuitive interface and is a user friendly program, allowing the sign professional to concentrate on his/her job.
CiberCut 6.0 offers the best quality-price ratio, it includes a billing capability, and incorporates advanced features found only in the best software packages.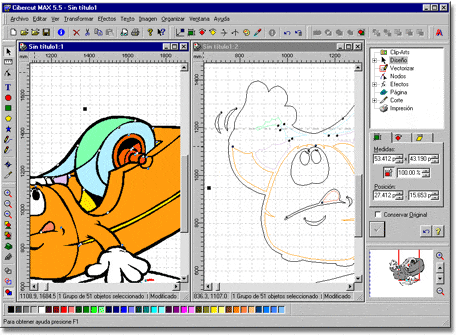 ---
SeriPrix 6.0
Computing quotation system for Screen Printing.
Seriprix is the first quotation program specially developed for the screen printing needs.
The program offers an important saving of time and uniformity of criteria. In a few seconds you will obtain all the cost calculations and the substrate's cutting layout.
The program also includes other features as network and internet integration and multiple currency support.