SeriPrix 6.0
Professional computing quotation system for Screen Printing.
Now with :
Internet integration, to send the quotation directly by email or to generate an HTML document.
Multi currency & Multi language support, for companies that have to send quotations in different languages or currencies.
Network support, to connect several licenses of the program and share data files.
Microsoft Excel connection, to send data from the work sheet to Excel and generate our own Work Flow sheets.

Main Window entry data
The main window of the program allows us to introduce the work's vital data, as they are: measurement and quantity of pieces, substrate to use, price and format (if we don't have already in our substrate's database), number of inks to print, cutting way, how will be made the screen, all kind of extra costs like art work, extra manipulations, shipping, waste, commissions, etc…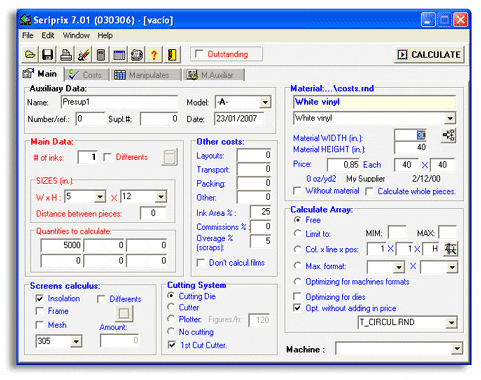 Calculus results
In few seconds we will obtain all the cost calculations and the substrate's cutting layout as well as the number of formats to print and the array to make within the format, on the optimisation basis (material usage – editing – surface to print).
Cut Layout
Through a totally graphic method we can observe the process of cutting material, when working with pages, there is the array and the surplus material.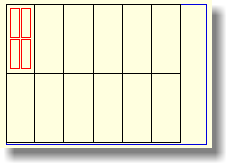 Amounts calculated
Fully graphical form we can see how to cut the material in the case of work in sheets, as you have to be mounted and the remaining material.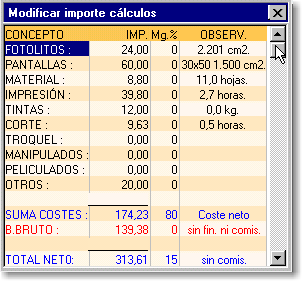 Array formats
We can easily select any other possible array and watch how this instantly changes the cut layout and all of the computations that have been made.
SeriPrix has already calculated all possibilities and has selected the BEST option.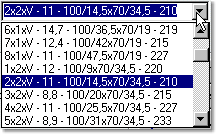 Quotation printing
Once confirmed the amounts, the printing of the quotation will be made with a totally customisable form allowing us to modify all the printed text (header, observations, payment methods, remarks, dismissed, etc).
Printed images
With only one "click" the image of a logo or signature can be printed in the quotation.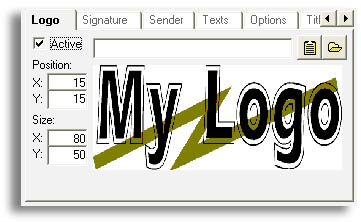 Payment methods and remarks
For each quotation, select additional comments to be printed as well as the required method of payment.
There is always the option to add, delete or modify this final section of the bill.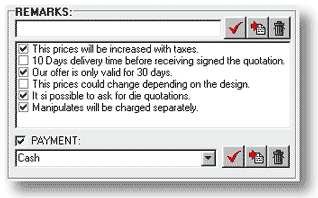 Print it or send by email.
Print all necessary copies of the quotation instantly and send them directly by fax or email.

Work order printing
Also the work order could be print where it appears all the vital data to make the work (substrate, inks, cutting layout, mixtures, etc).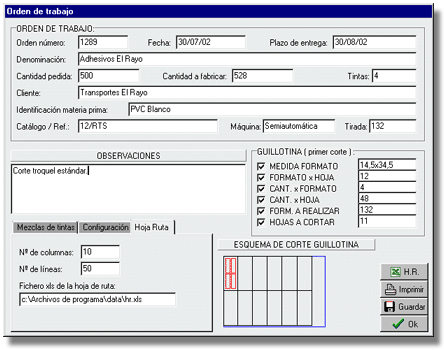 Dye cut search
SeriPrix allows one to utilize a database of manufactured dye cuts that can be reused. From the same main screen one can take advantage of this feature by searching in this dye cut database for shape and measurements that can be then be re-used for a quotation.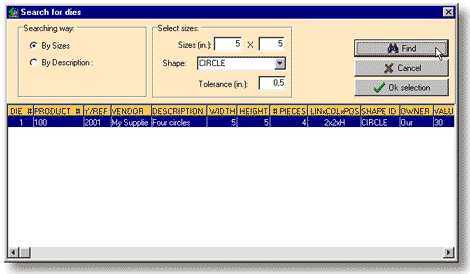 Quotation advanced search
SeriPrix has a powerful search engine for saved quotations. It is possible to very quickly find any quotation for any project with the name of the client, date, description as well as viewing quotations that are pending acceptance in order to follow-up on these projects.